Fresno LED Signs
VIEW GALLERY
If you're thinking of ways to market your business dynamically, you've probably considered using retro neon signs' classic, alluring aesthetic. While this product is guaranteed to be highly attractive whether it's day or night, it is also notorious for being very expensive and harmful to the environment.
Try Fresno Sign Company's Fresno LED signs for a game-changing alternative to neon signs!
This product comes in various types, from traditional signage illuminated with LED tech to LED tubes and displays. It will all boil down to the essential factors of the project, such as your objectives, business type, budget, and the like. As your signage company, we will help you get the best specifications for your lighted signs.
Whatever kind of LED product you order, we will employ the best of our manufacturing, designing, and installation expertise to ensure that your signs will perfectly match your business goals. We will target your intended audience, express your true brand, and effectively outshine your competition using our elite-quality signage products.
We look forward to discussing your needs with you and finding the best signage solutions for them!
Call Fresno Sign Company today at (559)594-3419 for your Free Consultation with a Fresno LED Sign expert!

Indoor LED Signs
Because of their attractive look, our Fresno LED signs are typically ordered for outdoor usage. But we also heavily recommend them as indoor signs. They make incredible visual tools to improve internal workflow, business operations, and customer experience. You can use them for indoor functions like wayfinding, brand establishment, and information dissemination.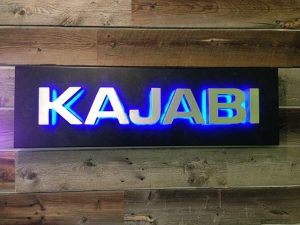 Our LED tubes are very popular for establishments that need some form of entertainment, such as restaurants, clubs, and theaters. They are commonly used as open signs, entrance and exit signs, order stations, and pickup counters. Other businesses would also use them for decorative purposes, such as displaying creative texts, quotes, and images using attractive tubes.
If you've noticed, LED tubes are the most vivid alternative to the classic vibe of neon signs. But instead of being expensive and environmentally harmful, LED technology makes this product much cheaper and safer for the environment.
Furthermore, you can also choose to use channel letters and pylon signs, among other types of signage, to match your LED displays. There are so many ways to creatively and strategically use our LED signs. All you have to do is call our Fresno, CA sign company so we can talk about the best ways to use them for the exact needs of your business.

Programmable LED Message Centers
The main advantage of programmable LED message centers over other kinds of electronically lighted signage is that they allow the user to change their displayed content whenever they want instantaneously.
If you need to highlight new products or if your industry is undergoing a new season, imagine what you can do if you can easily change the text or images displayed by your signage products without spending anything.
Using only special software connected to your message center, you can save a lot more time, money, and energy than replacing your signs with new ones.
You can get digital message centers as standalone units. But we also have options where you can attach or incorporate digital LED technology to other sign types. The most common examples include pylon, monument, and pole signs. They also have a lot of features and variations to choose from, such as monochromatic displays or black-and-white screens, giving a lot of chances to customize your product fully.
Full-Service Lighted Sign Company
Fresno Sign Company is a full-service signage company that can provide all the services you need for obtaining high-quality Fresno LED signs.
Whether you want to imitate the classic look of neon signs through professionally designed LED tubes or have simple illumination for your channel letters using backlighting, we got your back! We can do everything from graphic design, product design, manufacturing, installation, repair, and maintenance services for you!
You can trust that we only use the best raw materials available in our industry. We quality control each product from the manufacturing process until the installation phase, ensuring that your signs are secured in your building's interior or exterior for the longest time possible.
We aim to prioritize your satisfaction. So as your client, we allow you to create any changes necessary to your product throughout the process. Regardless of your budget limits or scheduling preferences, our professional team of signage experts will do their best to meet your demands and satisfy your business goals.
With Fresno Sign Company, you don't just get the best Fresno LED signs; you also get spectacular customer service that will leave you fully satisfied.

Free LED Sign Consultation
Enjoy the benefits of our Fresno LED signs. They will allow you to impactfully promote your message as a business regardless of whether it's nighttime or raining outside. This product will stay bright, alluring, and attractive, engaging the public whenever they see it.
From the outdoors to the inside of your business building, the LED signs are perfect for all the business objectives you have for them. They can improve your customers' experience, promote better workflow, direct people where to go, establish your interior branding, decorate your area, and more.
Indeed, investing in state-of-the-art LED signage from Fresno Sign Company is one of the best things you can do for your company. Call us as soon as possible so we can begin working on your lighted signage project.
Call Fresno Sign Company today at (559)594-3419 for your Free Consultation with a Fresno LED Sign expert!